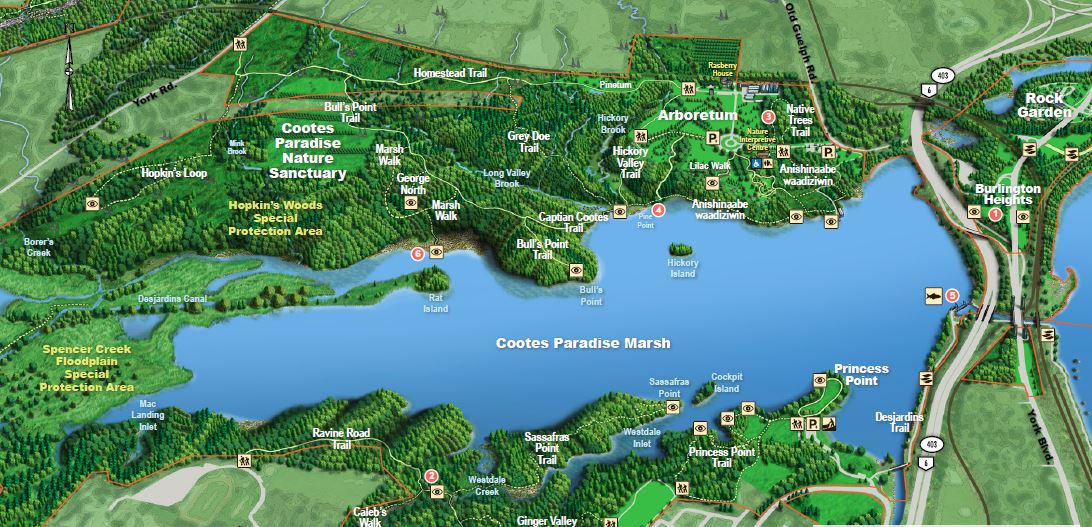 Cootes Paradise is 17 km of trails, 13 lookouts, 6 broad walks, and 8 creek crossings.
Between Cootes Paradise Marsh, Hamilton Harbour, and the Niagara Escarpment, almost 2,200 acres of open space and natural sanctuary are protected by the Cootes to Escarpment EcoPark System, which is a partnership between governmental and nonprofit organizations that include: City of Hamilton, Halton Region, Royal Botanical Gardens, Hamilton Naturalist Club, City Of Burlington, Hamilton Conservation Authority, Conservation Halton, Bruce Trail Conservancy and McMaster University. Hamilton and Burlington's central ecosystem offers several advantages, including biodiversity support, resilience to climatic and environmental change, chances for research and teaching, recreational options, and more. Cootes Paradise marshes and wetlands are one of Canada's most environmentally varied sites, including plant, bird and fish species.
Expandable List
Due to its ideal position at the southernmost point of Lake Ontario and its proximity to both the Central and Mississippi Flyways, Cootes Paradise has been proclaimed a national Important Bird Area (IBA). As a result, Cootes Paradise is frequented by numerous bird species throughout the year, especially around the spring and fall migration seasons.
With approximately 750 native plant species, Cootes Paradise has Canada's greatest botanical density. However, since European settlement of the area, 300 additional species have been introduced, which has had an adverse impact on the functioning of the local ecology. These plants are called invasive species.
With more than 60 species present, the area is a biodiversity hotspot for Canada. In the springtime, tens of millions of spawning fish migrate from the bay and lake through the Fishway, lay their eggs, and then quickly depart, enabling the marsh to serve as a massive fish hatchery. Lake Ontario in the marshes of Cootes Paradise can produce between 5 and 20 million fish yearly, depending on that year's water levels. 
History
There is a track of indigenous tribes known as Princess Point people, who were given the name due to archeological findings that suggested they were the first to introduce agriculture to the area. They were the first settlers who lived there between AD 500 and 1000. Europeans ultimately established here hundreds of years later, in the early 1700s. The region, officially created in 1927, was named in honour of Captain Thomas Coote, a British naval officer who spent many days in the 1780s hunting the area's plentiful waterfowl. On the western side of Lake Ontario, it is the only remnant marsh and serves as an essential habitat for wildlife.

In 2013, nine land-owning organizations decided to create the EcoPark System as a nonprofit partnership under a three-year Memorandum of Understanding. The agreement has since been renewed twice, and the EcoPark System is now operational through 2026.

In the past, the marshes around western Lake Ontario served as excellent fish spawning grounds and staging grounds for migrating birds. But by 1980, these protected areas were utterly destroyed, with little to no vegetation and no longer able to provide fish and bird species with healthy habitats. Poor water quality brought on by excessive input of fertilizers and sediments was a major contributor to this loss.